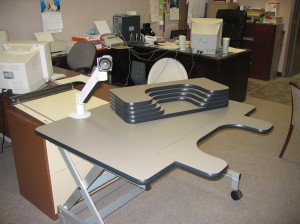 This is a fully adjustable workstation table with selectable inserts.  The table was designed for the Vancouver General Hospital department for the physically challenged.
The table incorporates a high quality worm drive electric motor that slowly and smoothly raises and lowers the work surface while keeping it perfectly stable and parallel to the floor.
The cutaway and inset provides for accommodating people of various disabilities.  All design and manufacturing, selection of materials and prototype manufacturing were completed by Allen Hepworth Designs.
Here are three short video files demonstrating the ease of use and reconfiguration of the workstation.